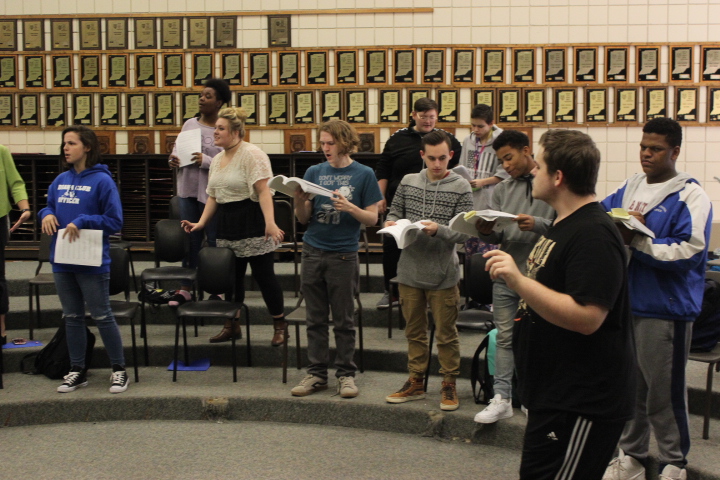 11/14/2018
Warren Central's unsettling fall musical, Sweeney Todd, wa
s guaranteed by the cast to be the most unique musical Warren has ever done. The show, which opened on Nov. 8th, lived up to its expectations with a stellarly casted ensemble and amazing set design.
Much of the musical's subject matter was explained in the opening song "The Ballad of Sweeney Todd." This song informed audiences that Sweeney Todd (Richaun Stewart) is a barber who murders his clients. He joins with Mrs. Lovett (Nikira Tillman) to cover up the killing spree by baking his victims into meat pies.
The primary characters, casted by theater director Jeffrey Dalstrom, were each perfectly fit for the role they played. Stewart played Sweeney Todd as flawed and vengeful, yet somehow still soft and kind to Mrs. Lovett. Stewart and Tillman worked together well, bringing much-needed comedy to an otherwise very heavy musical. Both leads were incredible at singing and acting, all while never dropping their British accents. The beggar woman, played flawlessly by Olivia Pennington, also brought a remarkable talent to the stage. Pennington was hilariously engaging in every scene she appeared in, and managed to sing beautifully while still in character.
Another component of 'Sweeney Todd' that made it less heavy were the two lovers of the musical. Anthony Hope (Ashton Kester) and Johannah (Sara Shuffitt) were full of sincerity, and each had singing voices that greatly suited their characters.
In addition, even the chorus of the musical demanded attention. They added individual personalities, and their background interactions were excellent throughout the show. However, top-notch singing and acting were not the only things that made 'Sweeney Todd' memorable.
The set, lights and props designed for this musical thriller were extremely intricate and suiting. With a two-story set and hand-made slide, the setup for 'Sweeney Todd' was the most unique it could have been. The light design captured the gloomy tone of the musical, and the set as a whole reflected the 'old London' setting well.
This production of 'Sweeney Todd' was definitely worth seeing, and will likely be remembered as the most complex yet eerily wonderful show put on at Warren Central.