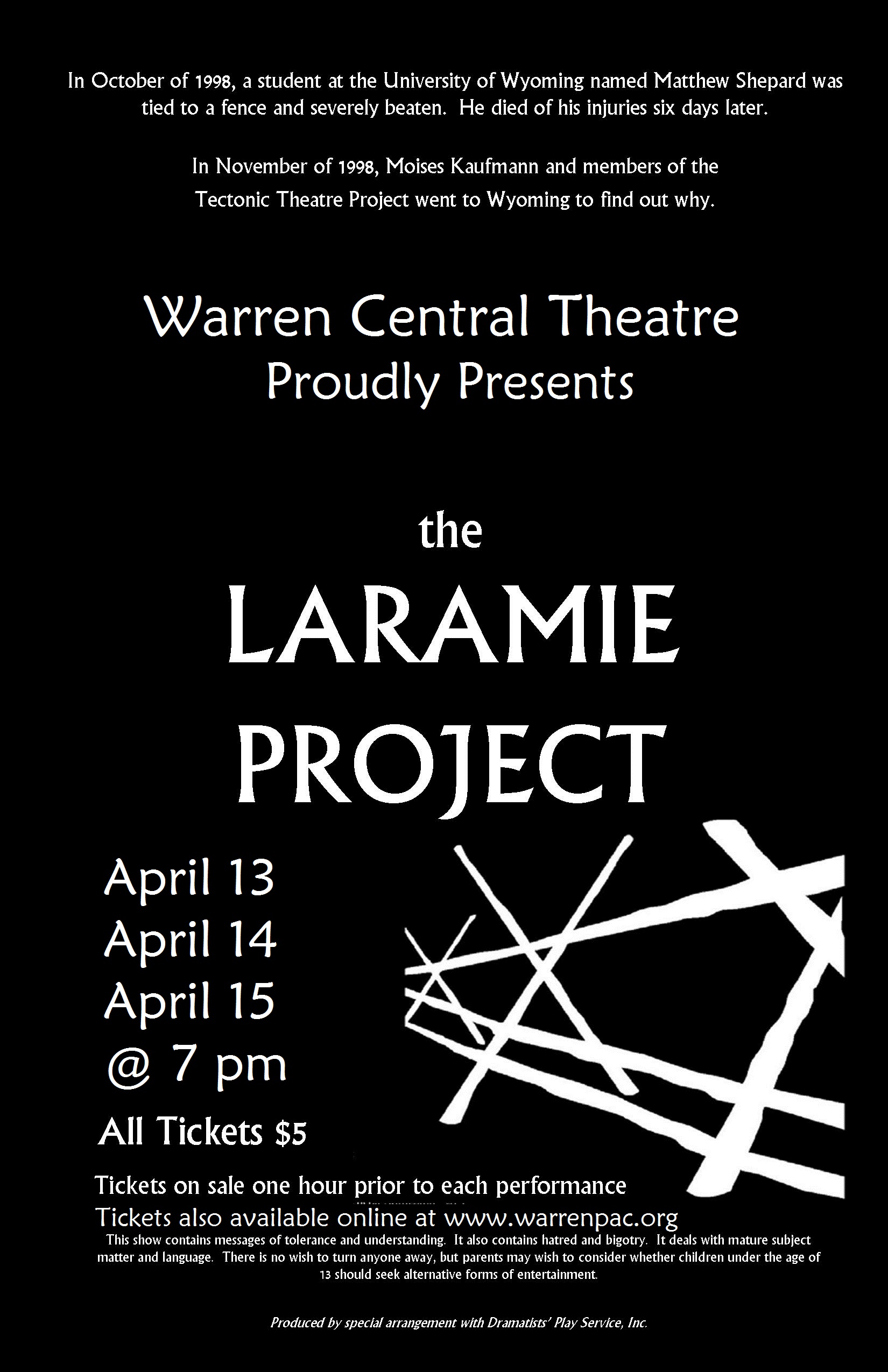 on April 13 - 15 at 7pm next week. Tickets are $5 and can be purchased online at warrenpac.org or at the door. In October of 1998, a student at the University of Wyoming name Matthew Shepard was tied to a fence and severely beaten. He died of his injuries six days later. In November of 1998, Moises Kaufmann and members of the Tectonic Theatre Project went to Wyoming to find out why.
Director's Note
The events of this play took place almost two decades ago. In fact, a sequel to The Laramie Project is already being performed: The Laramie Project 10 Years Later. Matthew's death and the events surrounding it brought to light how the we think and feel about homosexuality, education, class, violence, privileges and rights, and the difference between tolerance and acceptance. While people may feel as though we have come to a time and a place where the kind of hate seen in this production does not exist, people in our community can tell you otherwise. Indianapolis is 1,152 miles away from Laramie, Wyoming, but this city is not far removed from hate and violence.The Laramie Project offers everybody a chance to discuss the issues surrounding the murder of Matthew Shepard. I have been honored to take part in rich conversations with my cast and crew and have witnessed these young men and women question, contemplate, and analyze complex ideas and values. I am grateful to them and to this show for giving me this opportunity. I would also like to express my gratitude for The Matthew Shepard Foundation for their support with this show.
The actors and technical crew have worked tremendously hard over the past month to create a documentary drama. Not only have they worked on acting skills that can extend to any play, but they have also researched the many characters that they will portray. For these characters are actually not that - they are real people, and these are the actual words that they spoke. The script offers raw material from those who experienced the aftermath of Matthew's murder, and the actors will give you a raw performance without any curtains to hide behind. This is a courageous group of young men and women who are about to take the stage, and I'm proud of them for doing so. In addition, our technical and design crew has done a wonderful job creating a living breathing abstract world for these characters. I think you will be very impressed with how incredible all of these students are.
This show contains messages of tolerance and understanding. There is hate and bigotry represented in this play, but there is also hope, acceptance, and love. I hope this performance encourages contemplation and conversation. Please enjoy the show. Please be advised that there is explicit content, strong language, and adult situations. There is no wish to turn anyone away, but parents may wish to consider whether children under the age of 13 should seek alternative forms of entertainment. Parental discretion is advised.