Girls Track by Kobie Summers
It is hard to make it to the top, let alone stay at the top.
But the girls track team has proven it can be done.
"After having such a successful year, it's always difficult to keep a team motivated, but we always keep it in the forefront of their minds the feeling of second place and we don't want to go back there," head coach Legretta Smith said. "Winning is addictive and once you have the taste of success you don't want to let it go."
In the beginning of the season the main question was, how could they top what they did last year? After taking the State Championship title scoring 70 points with just 10 girls.
The ladies started their off season on the right foot winning the indoor State Championship. That showed they are still stacked with remarkable talent after graduating star runner Breyanna Byrdsong.
Now the question is, which team is going to be in second place?
"With our returners gearing up for a repeat, we have a lot of new talent that are learning and growing," Smith said.
The strong returning seniors Ashley Baker, Destiny Johnson, Kayland Jackson, Asia Hicks, Dejah Anderson, and the list goes on. Also, you can not forget about the relentless junior Kennedy Batts. Also, the strong underclassmen such as phenom Mikeisha Covington and K'ja Talley.
Last year Jackson was the only individual state champion in the 100m hurdles and Batts also scored in the event. Both the 4x100 (Prommyse Hoosier, Baker, Covington, Brydsong) and 4x400 (Baker, Covington, Byrdsong, Johnson) relay teams were State Champions, with the 4x400 finishing very close to the state meet record.
With talent comes success, but with success comes a lot of attention.
"Knowing that there is so many people watching us and tuned in, our main focus is really to just stay focused," Johnson said.
"It is so easy to get distracted by other teams, schools, friends, etc., and it's not hard to mess up at all."
Boys Track by Kobie Summers
Being second best is never fun.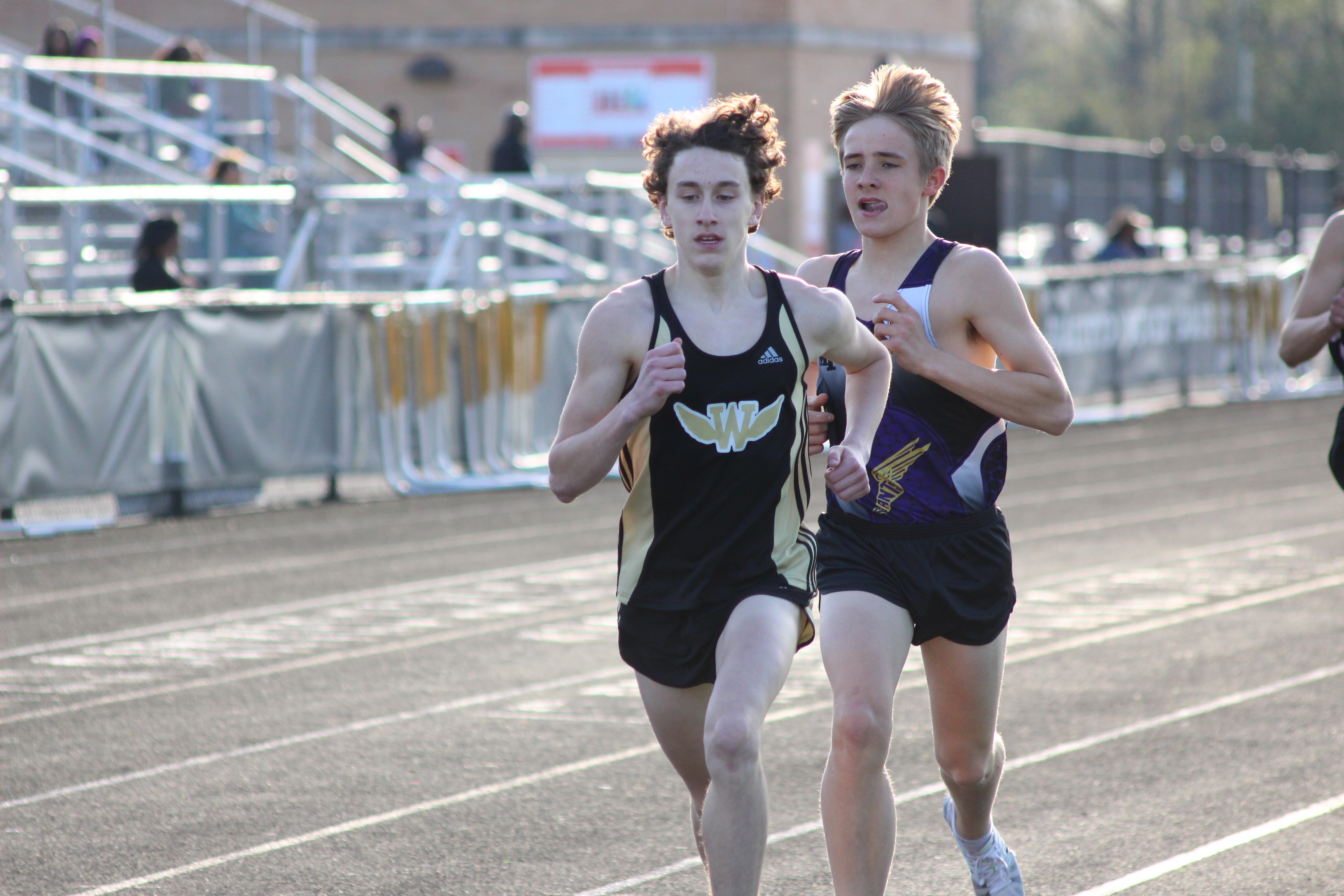 The talk around the Warrior Nation is "What happened with the boys track team?" "Why aren't they as good as the girls? "When will they be as good as they were?"
The boys track team is tired of hearing that.
It It takes time to rebuild, it takes time to figure out the strengths and weaknesses among the team, it takes time to be considered one of the best again. They have been rebuilding their program after graduating key runners such as, Javier Alvarado, Manzell Clay, Demontrae Lapsley and the list goes on.
But, they still have a strong group of athletes who contribute in a major way and who have a chance to not just make it to State but place in State. To begin with, Moses Baryoh and Bryce Byrdsong are two valuable runners on the team and they have things they want to accomplish.
"My individual goal is to place top three in outdoor state and run a 14.0 in the 110 hurdles and 40 to a 38 in the 300 hurdles and last run a 50 split," Byrdsong said.
As for Baryoh, "My individual goal is to be the team leader, score points and do big things at State."
They have a tough season ahead of them and the question is not if they will be ready, the question is when will they be ready and how hungry will they be?
You You can catch your fellow Warriors in action on April 28 for MIC at 6 p.m.
Photo: Sophomore Micheal Althardt edges out a Ben Davis runner in a regular season matchup. Althardt was a standout runner on the boys cross country team in the fall as well.
Lacrosse by Kobie Summers
The game does not get easier, they just have just been getting better.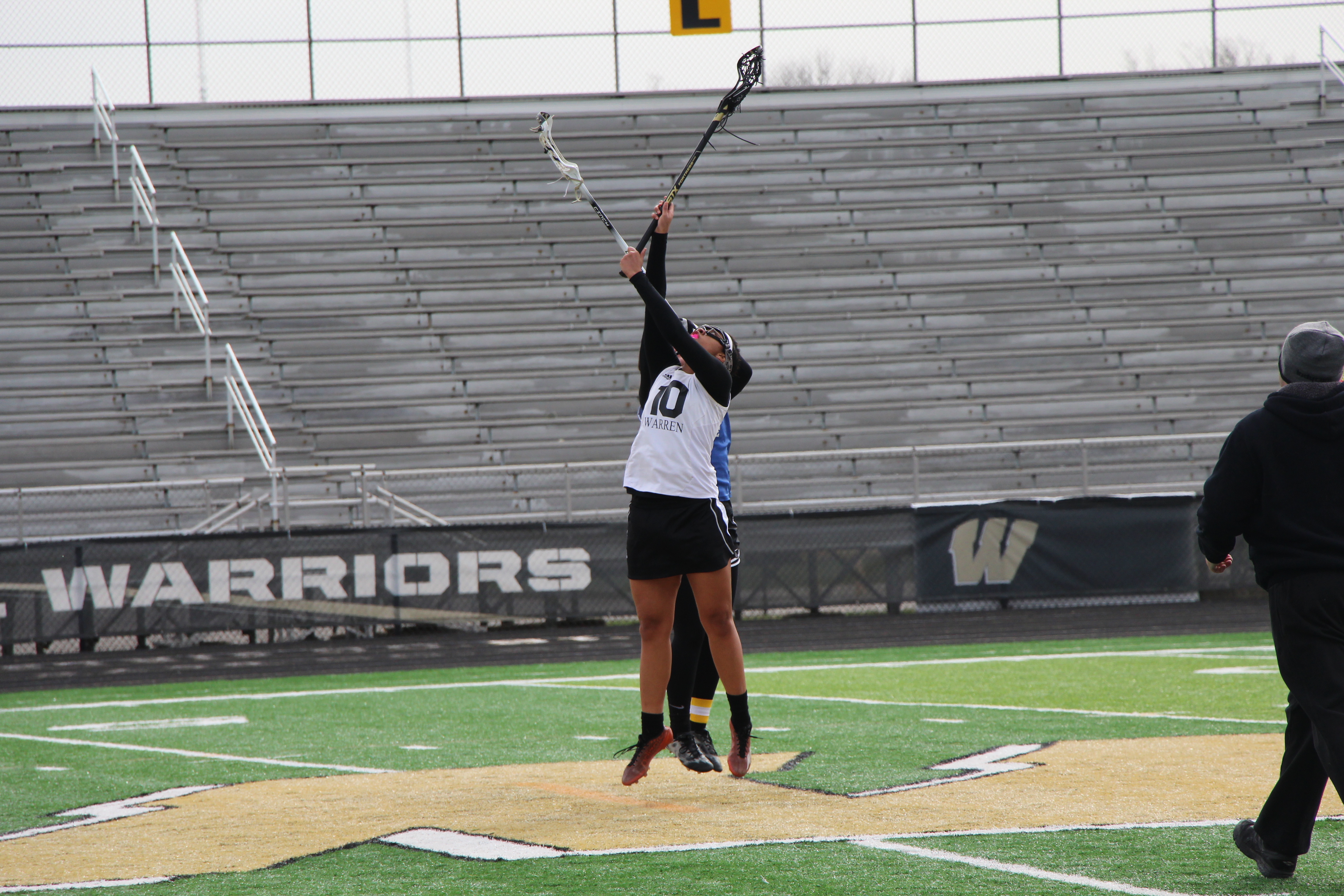 It all started in 2013 when lacrosse was introduced to the Warrior Nation as varsity sport and ever since then the program have gotten bigger and better.
"Each year that we have had lacrosse we have been more competitive and have been a bigger threat to knock off the traditional powers in the State tournament," Roberts said. "I really look forward to seeing where we will be in May and how we compete this year in the tournament."
The lacrosse team has been making a name for themselves, bulldozing any competitor that comes in their path. They started the season on a three game winning streak before taking a tough loss to Penn 8-11, making them 3-1. They soon bounced back with improving their record 7-2, which is the best start of the season in history.
"We are off to a good start, our best ever I think but we still have the very difficult part of our schedule coming up, but the way we have been playing in our first few games is very encouraging," head coach Gary Roberts said.
Every good team has great leaders and beneficial players, players they know will score when needed and defend when suppose to. For the lacrosse team they are seniors Ivore Westfield, Cassidy Cobb, Taylor Baker, Analea Keatts and Goalie Courtney Jones.
"My goal for this season is to make a run in the tournament," Baker said. "We have always been the underdogs but every year we keep edging out good programs and all we need is to make that final push to win State, we would be selling ourselves short if we didn't push for that."
Don't believe me, you can catch the girls at Zionsville on April 27 starting at 6 p.m.
Photo: Senior Ivore Westfield fights in the air for the draw in a regular season game against Bloomington. The Warriors went on to win this game 12-3. Photo by Madeliene Stiers
Baseball by Taylor Baker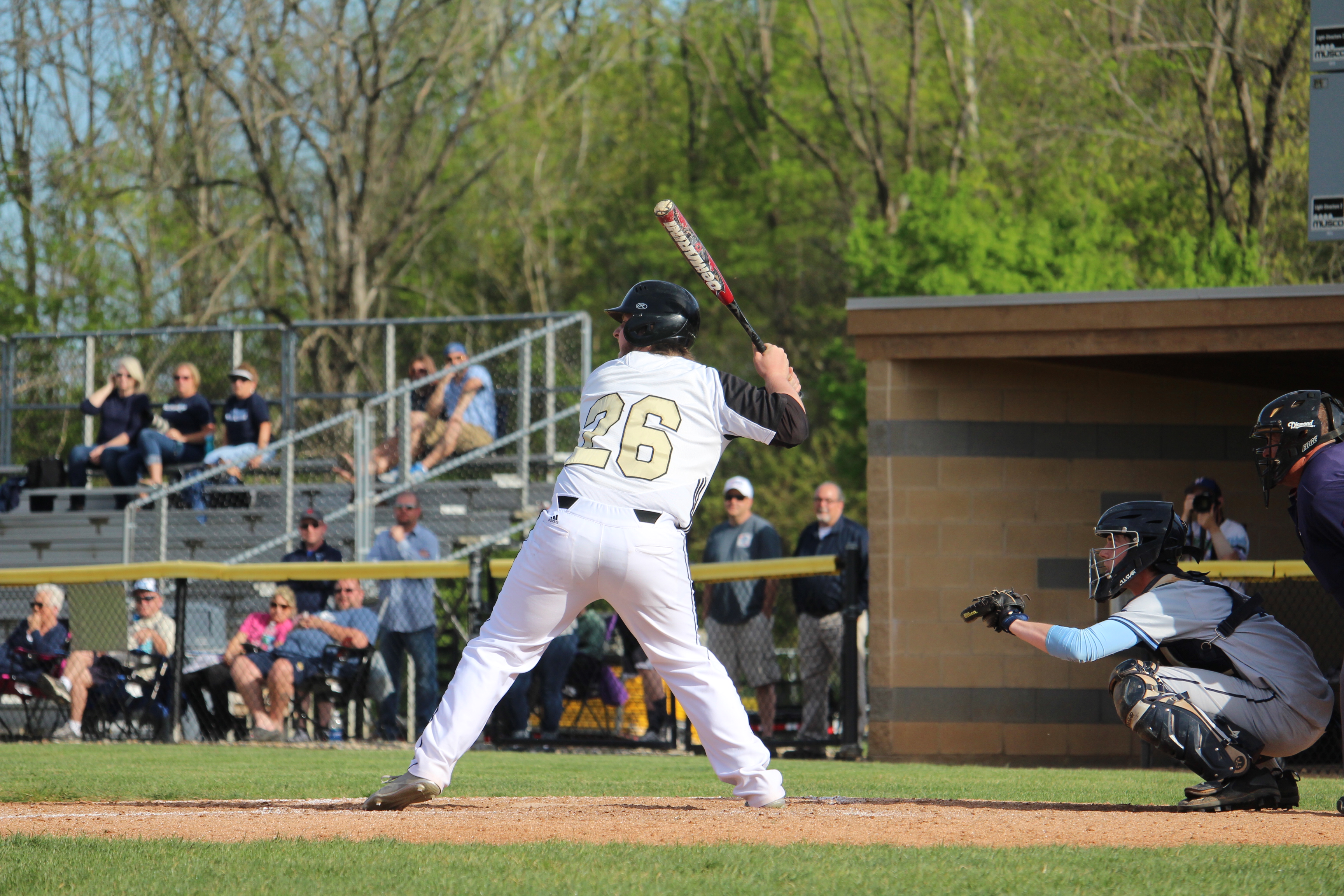 Three numbers will define this baseball team. Three numbers will be the determining factor if the Warriors make it through a tough schedule in one of the best conferences in the state. Frankly, three numbers will decide the fate of this team come June in the State tournament.
Three numbers will decide the legacy this team leaves behind, and strangely enough, those three numbers have absolutely nothing and everything to do with baseball.
459.
*********
The game is over. The teams are lining up to shake hands after senior Austin Schnarr's home run that helped put the finishing touches to beat conference foe Lawrence Central 4-0. As the team descends to the dugout, they turn, line up, and start shaking each others hand and telling each member of the team "459."
"Honestly, I am not sure which verse in the Bible it comes from, but it means brotherly love," Schnarr explains. "After every practice and game, coach has us line up and we shake each other's hand and tell them 459. It means that, 'I love you, I support you, I got your back,' and it has been our mantra this season."
With the unexpected resignation of head coach David Seibel after two seasons of under five wins, the Warriors were left to rebuild the broken program that he left behind. Leading that rebuild was new head coach Emmitt Carney.
Athletic Director Marques Clayton talked last week on his new podcast "The Pit Zone" about the struggle it was to get an elite baseball coach to come to Warren. But Carney saw Warren as the ultimate opportunity.
"I felt like Warren had a lot to offer and was honestly my dream job," Carney said. "It was a glass half full situation for me. Warren has a lot of diversity and quality athletes that show up everyday and get after it. They don't mind working hard and you don't have to motivate them to want to learn."
Carney immediately jumped in with the program and did something that challenges most newly hired coaches with their programs and that is find a way to bring them together. With the struggles this team had and the lack of success despite the talent in their athletes, Carney found a way to improve their play by improving the atmosphere in which they played in.
"There is an entirely new atmosphere now than there has been the last three years," Schnarr said. "He made sure that we learned to love and respect each other before we ever learned any baseball stuff, and that helped us play together. He really cares about each one of us and cares if each one of us cares about the team, and that is something I think most coaches lack."
With a newfound respect for the man playing beside them, the team already has more wins this season than the past three years going 6-4 in regular season and 2-4 in conference with big MIC wins against both Lawrence North and Lawrence Central 4-0 and 3-2 respectively. In both wins Schnarr hit a homerun to give the Warriors the boost they needed to win. Only 10 games in and the Warriors have already doibled their wins from the last four seasons and are on track to have one of the best seasons since 2012 where the team went 10-20 under head coach Brian Murphy.
"Honestly, we have just been hitting a lot in the off season and during season, so when I get these big hits, it just feels natural," Schnarr said.
Although Schnarr has been the designated hitter for the Varsity for two years, this year is his first year as the starting first baseman.
"Coming into this season there was a lot of pressure on me to perform because I knew a lot of people were coming for my spot," Schnarr said. "I knew that if I didn't perform somebody else would, so I just put all of my heart into and played without fear of making mistakes. I played because I loved my brothers."
Safe to say 459 is working its magic.
Photo: Senior Austin Schnarr at bat in a regular season match up against Lawrence central. Schnarr has been clutch at the plate this season hitting two home runs to help the Warriors beat Lawrence Central and Lawrence North. Photo by Madeliene Stiers
Softball by Jaylen Moore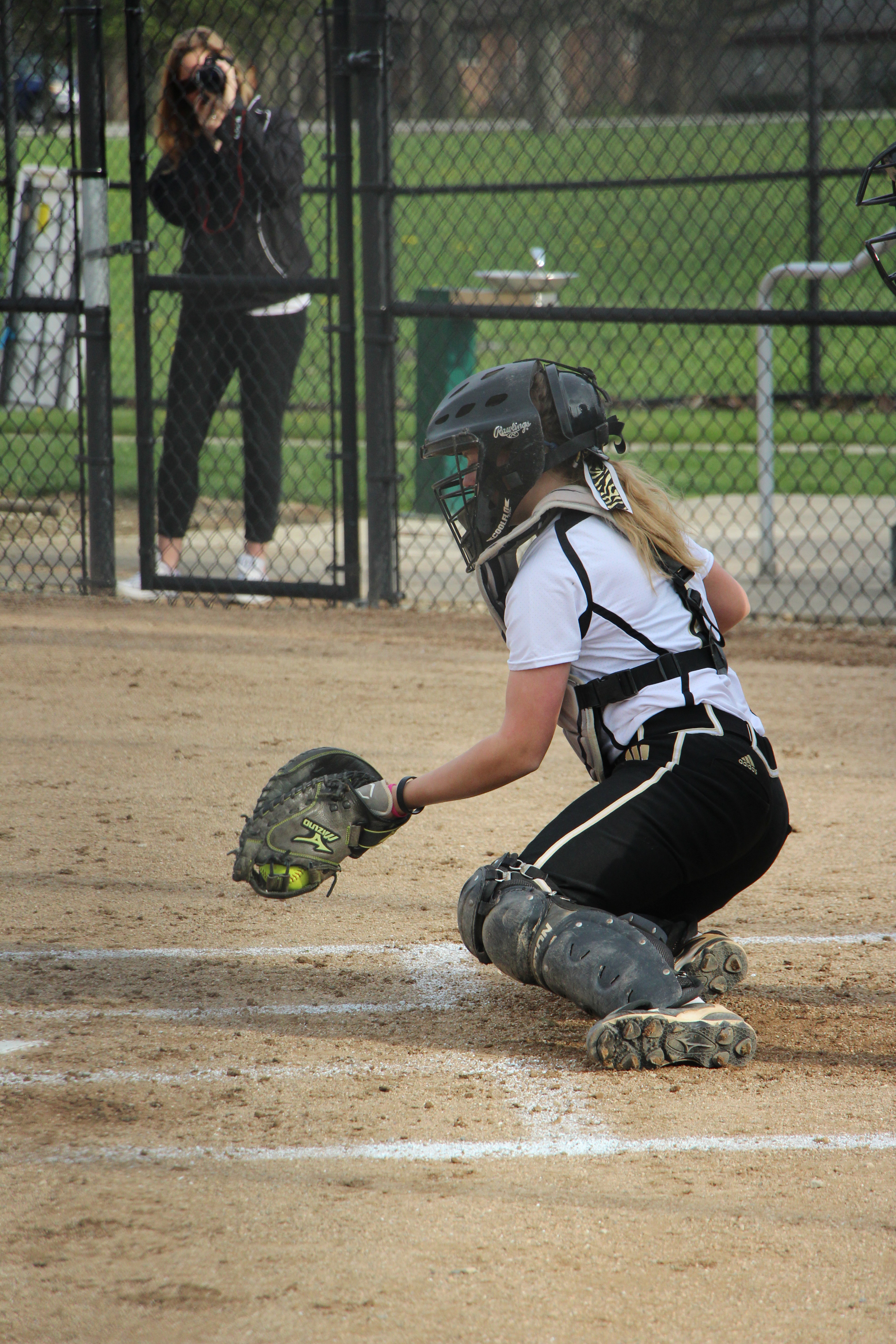 Without confidence in yourself, you are twice defeated, as the saying goes.
The softball team has battled with confidence so far.
The Lady Warriors kicked off their season against Perry Meridian. After 7 innings of play, the score was tied 6-6, forcing the game into extra innings.The Warriors were out on defense first, but Perry Meridian couldn't gather any momentum and bat in any runs, so the Warriors got their chance to bat.
"I was just looking for a base hit at the moment" junior Shelbie Stotts said.
The Marian College verbal commit found what she was looking for and more.
"I just remember saying to myself, wow that felt really good coming off the bat. And then I looked up and the ball wasn't slowing down and then I saw it go over."
Stotts led the Warriors to victory with a two run walk off. The following day the Warriors faced Pike and was able to pick up another win.These two wins gave the Warriors a great level of confidence. Maybe a little bit too much confidence.
"I think we got too confident and comfortable winning the first two games that we kind of overlooked the next games," senior Kamryn See said.
Unfortunately, the Warriors overlooked the next 10 games according to Maxpreps. They looked over teams like Lawrence North, Greenfield-Central, (No.9 )New Pal, Eastern Hancock, and Zionsville.
"Their confidence became very low and they needed their fight again," three-year head Coach Leah Prewitt said.
Fortunately, the Warriors found their fight. The team got back to their winning ways, beating MIC rival Lawrence Central, Brebeuf Jesuit, and split the Terre Haute North double header.
"I believe what turned this thing around was energy, remembering what winning felt like and confidence," Stotts said.
Stotts and the Warriors will look to bring their confidence as they play Guerin Catholic at home today and No.2 Center Grove on the road. Both games will begin at 5:30.
Photo: Shelbie Stotts behind the plate with a good catch for the Warriors. Stotts was all Mic and and all county last season. Photo by Madeliene Stiers
Tennis by Jaylen Moore
Game. Set. Match.
After a 4-12 season last year, Coach Jason Wagner believes if they can find consistency this season, their end result will be better than last year. In fact that is the team goal.
"We have times when we play really well, but we have not been able to maintain that." Wagner said.
The Warriors are currently 1-4, after losing four straight games against MIC rivals Lawrence Central and Center Grove. Along with Cardinal Ritter and Southport. They were able to pick a key win versus Greenfield-Central which was highlighted on the team's calendar.This was a match that the Warriors have won consistently over the past years.
"We definitely need this win after taking some very hard losses. I think this is a starting point to keep our wins going and represent girls tennis to the best of our ability." Team leader Bella Matthews said.
Matthews and her Warriors will look to get their second win on the season tomorrow versus Greenwood Community High School and more consistency.