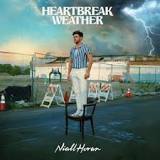 Heartbreak Season
Bri Rainey
Friday, April 17, 2020
Irish singer Niall Horan released his second studio album titled "Heartbreak Weather" on March 13, 2020, nearly three years after the release of his debut album "Flicker." Since the split of major boy band One Direction, Horan, among his former bandmates, has been making solo music in order to further his individual career. Fans have been anticipating the release of his album since the announcement on Feb. 7 and now no longer have to wait.
"Heartbreak Weather" features 14 songs and spans the length of just over 46 minutes. In a press release, Horan stated that he wanted to "tell the story that was in my head, hopefully, lead people down the storytelling lane of an album track listing" and that he "wanted to write songs from different sides or from someone else looking in."
Horan originally rose to fame after the mass success of the British-Irish boy band, One Direction. While the band lasted for five and a half years, the boys took an indefinite hiatus five years ago and while they are rumored to return, it is unlikely. As a result, Horan has been pursuing a full-time solo career often making talk show appearances and will go on his second world tour this year along with rising star Lewis Capaldi.
Before the release of "Heartbreak Weather" Horan released three singles titled "Nice to Meet Ya," "Put a Little Love On Me" and "No Judgement." In "Nice to Meet Ya," the first single of the album, fans can hear how smooth and refined Horan's voice is as he sings about meeting someone that he is instantly attracted to and would later like to get to know. A song that has music that is easy to dance to, "Nice to Meet Ya" is a song that is fun to listen to and is fun overall. With lyrics like "I like the way you talk, I like the things you wear/I want you number tattooed on my arm in ink, I swear" Horan describes the strong attraction he feels as well as his hopes of being about to get to know this potential love interest more.
However in "Put a Little Love On Me," Horan's voice is noticeably more stripped down as his voice is accompanied with a piano. This change in sound is appropriate as in this sad ballad Horan is singing about his breakup with lyrics like "we fight, we get high holdin' on to love/ we came down 'cause there was nothing holding us" and "when the lights come up and there's no shadows dancin'/ I look around as my heart is collapsin'." This song stands out among the singles as it is stripped down both vocally and instrumentally in a way that is absolutely beautiful to listen to. The third single from "Heartbreak Weather" is "No Judgement" and goes back to the sound that Niall has been associated with as it has more of a pop sound and fun instruments in the background that stand out. In this single Niall sings about not judging who he is with and that his love interest can be themself whenever they are together. With sweet lyrics such as "When you're with me no judgment/ you can get that from everyone else/ you don't have to prove nothing/ you can just be yourself" this song stands out lyrically more than anything else it does not really show off the range that Horan has.
"Black and White" is one of the most romantic songs on the album as Horan sings about the memories he has with a girl and the future he can see with her. With lyrics like "Yeah, I see us in black and white/crystal clear on a star lit night/in all your gorgeous colors/I promise that I'll love you for the rest of my life" before continuing on to talk about the wedding scenario that he envisions with "I want the world to witness/ when we finally say I do.. I can't promise pickett fences or sunny afternoons/ but at night when I close my eyes I see us in black and white." "Black and White" stands as a song that couples could use as their anthem or a wedding song to use later down the road for its beautiful music as well as beautiful lyrics.
The final song on the album is "Still" where Horan closes with sharing how he is not truly over his previous break up and wants her back as he sings "I'm still in love with you." Horan truly goes away from the pop elements of his previous songs and strips down in this song to look inside himself for what he truly wants. Horan's voice stays in falsetto for the majority of the song as he opens up the part of him that he does not share all that often where he is begging for his recent ex to "tell me you want it/ a thousand miles away from the day that we started."
Overall "Heartbreak Weather" does not disappoint. It is a beautiful album that pulls together the best parts of different genres and exposes pieces of Horan's broken heart, memories and hopes and dreams and overall presents a well put together range of songs that are quality and impress his audience. The album receives a 5 out of 5 stars and is available on all streaming sources as well as in stores.