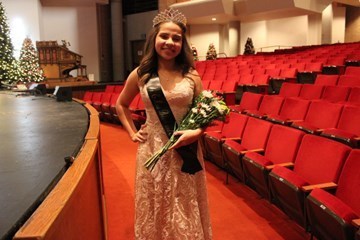 CROWNING OUTSTANDING WARRIORS
Ge'Monnee Broadnax
Friday, December 21, 2018
The sixth annual Warren Central Black and Gold pageant was held Monday Dec. 3 in the Warren Performing Arts Center.
The event was sponsored by art teacher LaTonya Mason, who was part of the original council that created the event six years ago.
"We wanted to promote school spirit and thought this would be an excellent way to encourage the student body," Mason said.
The contestants were judged on how they presented themselves, how they answered interview questions and their knowledge of both Warren Central history and current events. The winning contestants earned scholarship money for college. Clubs and groups throughout Warren Central sent representatives to compete in the pageant.
Junior Sarah Starks took home the crown for Ms. Black and Gold this year. Starks began preparing for the pageant two weeks in advance to study her Warren Central history in order to do well in the history portion of the pageant.
"I was very surprised and shocked to win. I didn't think that I would win, especially as a junior, so when I heard my name called, I really went into shock," Starks said. "I was just really honored to be chosen to represent the school as Ms. Black and Gold."
Senior Chrishaun Johnson won the crown for Mr. Black and Gold. Similar to Starks, Johnson created flashcards in advance to study for the history portion of the pageant.
"Honestly it was exciting," Johnson said. "It was an amazing first time experience."
The Black and Gold pageant looks to be a fixture that will continue for more years to come with the enjoyment that those involved get out of it.
"The students have so much fun together. I love the way they encourage one another," Mason said.