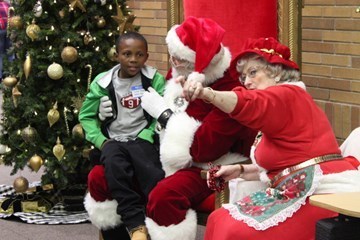 SPREADING JOY
Staff
Friday, December 21, 2018
On Friday, Dec. 7, Warren Central High School hosted their annual Children's Christmas Party in the Commons. Each year, student council selects ten students from each of the nine elementary schools whose family is unable to provide them a Christmas.
"We've grown up in the community," student council social media officer Hayla Schutt said. "Giving back to them is really important and it helps us to build a connection as well."
Various clubs and teachers from across the Warrior Nation are assigned a child to "adopt" for the holiday season and are given a form based on the child's interests and needs. The form can include anything from the child's favorite colors and television characters to their clothing sizes or even specific items that they need, so items are tailored to the child's liking. The minimum contribution for each class is 100 dollars, but many go above and beyond that amount.
"Every child deserves a happy Christmas," secretary Joreylis Montgomery said. "It's our job as the student body to provide that for them."
Planning for the Christmas party took place over the past two months during student council meetings and class periods. The party featured a variety of activities for the kids and class representatives such as coloring, decorating cookies, music and a Christmas-themed movie.
"My favorite part [about the party] is seeing the smile on the kids' faces," student council activity coordinator Destiny Hatcher said.
The event lasted for two and a half hours, during which children were invited to have fun with the student representatives from each class and organization that contributed. The children were welcome to explore the area and even visit Mr. and Mrs. Claus and their elves who brought extra joy to the party.
"We help out in the places that we can to help better our community," student council assistant Octavian Gill said.
Student Council members brought in Capri-Suns, snacks and icing for points to contribute to the party. Members also filled in whenever a child did not have a student rep. The dress code for the event was Christmas styled clothes.
"Being able to help out with the kids is one of my favorite parts of the holiday season," Montgomery said.